At Curiosity we are currently working on productions according to all health regulations related to Covid 19. In these circumstances we create campaigns together with our clients that are extremely relevant and successful like the latest Grand Sud campaign. – Engage with post By Quinten on LinkedIn –
Result so far
Our latest campaign for Grand Sud is still running and already reached more than 150K (90% engagement) people within target audience and has been picked up by Winebusiness.nl. The campaign is completely produced by remote teams; from The Netherlands to Australia.
Grand Sud campaign:
Tag je partner in wine en win een luxe set wijnglazen met jullie namen erin gegraveerd! Zij of hij krijgt jouw naam en andersom. Zo hoeven jullie elkaar niet écht te missen. En zodra het weer kan wissel je de glazen om en proost je met je eigen glas van Grand Sud! We kiezen 8 winnaars op 1 mei om 12.00. Prijs bestaat uit twee glazen per winnaar met twee verschillende namen erin gegrafeerd.
#winnen – #GrandSud – #daarwordenweblijvan – #partnerinwine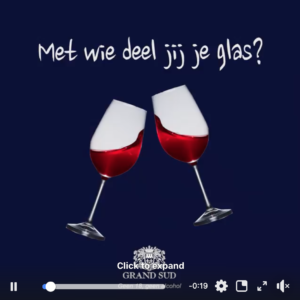 GCF Groupe: Linda Schoemaker, Barry Huisman – client. Curiosity Amsterdam Marketing consult, strategy, concept, production. IM Lounge Media strategy and outroll.